Date/Time
Date(s) - 09/14/2019
10:00 am - 12:00 pm
Location
Dawes Arboretum
Program: The American chestnut (Castanea dentata) was once found throughout the forest of the Appalachian Mountains, and was a primary component of Pennsylvania's forests. In the 1800s, plant importation brought with it a devastating fungal disease that all but eliminated the American chestnut from its original range. Researchers at Penn State have been on the forefront to restore this species, exploring the many facets required for reintroduction of disease-resistant populations.
Given all those hurdles, one might think working toward chestnut restoration is simply a setup for defeat. Luckily, current research suggests populations of American chestnut could be self-sustainable, despite changing pressures, within the next 50-100 years. For more information, visit the American Chestnut Foundation.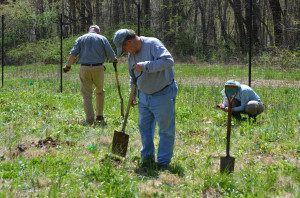 Details: We will meet at the Visitor Center. There will be a 45 minute talk followed by a walk to the American Chestnut Tree research plot. The walk is approximately 3 miles round trip for those who feel up to it.
Speaker & Guide: Sara Fern Fitzsimmons has worked at Penn State with the American Chestnut Foundation since 2003, assisting chestnut growers and researchers throughout the Appalachian Mountains.