Map Unavailable
Date/Time
Date(s) - 08/10/2019
10:00 am - 12:00 pm
Field Trip: Rick Gardener will lead us through three prairie remnants in the historical Darby Plains near Plain City. The trip will begin at Milford Center Natural Area, a prairie along an abandoned railroad grade that has numerous prairie species, including Royal Catchfly. Then we'll visit Smith Cemetery State Nature Preserve, a pioneer cemetery that has large oaks and incredible prairie plant diversity in a just over 0.5 acre plot. The final destination is W. Pearl King Savanna Nature Preserve which is the best oak savanna remnant remaining in the Darby Plains. This site has several species of plants you'll find no where else in the Darby Plains area. All sites except W. Pearl King Savanna have trails. Please dress accordingly.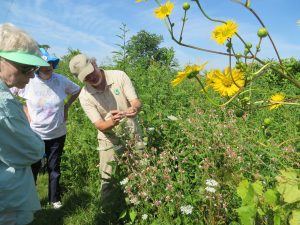 Tour Guide: Rick Gardener, Chief Botanist for the Ohio Department of Natural Resources, Natural Areas & Preserves. Rick also manages all Ohio State Parks. He spoke to us in January about these prairies.
Meet Up Location: Milford Center Prairie is found at Connor Road, Milford Center (40 09 27.789 / 83 27 26.4). It is located in Union County, 2.5 miles south of Milford Center along SR 4; proceed west on Connor Road less than .5 mile to the powerline right-or-way. Park in the right-of-way just off Connor Road and follow the mowed right-of-way path south across Treacle Creek.